Battery Powered Southern Snow Block Shaver
IN STOCK
NOW:
$

2,045.00
(You Save 11%)
Description
Manufactured by Southern Snow, this is arguably the best battery operated New Orleans style block ice shaver available. The 3-blade cutter head allows for a high-quality, fine and fluffy snow. Every drop of shaved ice syrup is absorbed by the snow-like ice shavings and melts instantly in the mouth. It doesn't get much better than this.
This battery powered block ice shaver is manufactured using high-quality stainless steel with aluminum casings. This optimal construction provides a lifetime of use. In fact, this machine includes a lifetime warranty! It also features a 6-year warranty on the motor and is NSF Certified and UL Listed.
The battery-powered Southern Snow block ice shaver boasts a motor cover to ensure the safety of the operator. An industrial double-throw on/off switch provides trouble-free operation throughout years of usage.
This machine is surprisingly quiet and is proven to shave hundreds of fluffy servings per day. The included drip-tray has a threaded drain to easily connect to your drainage system. The space saver legs mounted on this block ice shaver allows the operator to easily position the machine anywhere within the drip tray. Most operators prefer the machine to rest against the back of the tray to allow the front of the tray to collect any ice over-spray.
Don't forget to add block ice molds to your cart along with this shaver and consider an extra set of spare blades to always be prepared.
If you have any questions that aren't answered here or under the specs tab above, please contact our customer support team and they will gladly assist!

Specs
SPECS
Machine Dimensions: 34" × 30" × 16"
Machine Dimensions with Ratchet Bar Extended: 53.5" × 30" × 16"
Drip Pan Dimensions: 33.5" × 4" × 24"
Machine Weight: 110 lbs.
Motor Size: 3⁄4 HP
Electrical: 12V DC
Battery: 12V Deep Cycle Marine Battery (not included)
Shaving Capacity: 600-800 fluffy servings per day
Ice Block Size: 14" × 5.5" × 5.5"
Blade Life: 400 blocks (3,000 - 4,000 servings)
Shipping Weight: 140 lbs.
Shipping Dimensions: 36" × 27" × 23"
Manufacturers Warranty: Lifetime Machine; 6 Year Motor
Certifications: NSF Certified and UL Approved
Battery Powered Southern Snow Block Ice Shaver Owner's Manual

Shipping
SHIPPING
Delayed due to Hurricane
This item ships in 1-2 business days from our warehouse.
Transit times vary based on the shipping destination. This item is shipped via LTL Freight. Shipping costs are based on the weight and dimensions of the item along with distance from our warehouse to the destination. Someone 18 years or older must be available to sign for this machine upon delivery.
View our shipping policy for additional details or feel free to give us a call to discuss shipping options.

Customer Reviews for Battery Powered Southern Snow Block Shaver
Recently Viewed
You May Also Like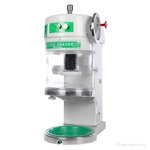 WAS: $2,495.00
NOW: $2,195.00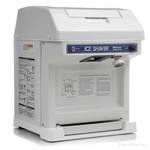 WAS: $2,195.00
NOW: $1,895.00