Syrup Dispenser - Create-A-ConeŽ
Item #

CAC1000
NOW:
$

2,499.99
(You Save 17%)





Description
There's something special about standing in front of a syrup dispenser and choosing your own syrup. The Create-A-ConeŽ Mini can make that happen. Using a bag-in-box system, you can quickly connect and disconnect flavors and give customers the ability to add their own flavors. The flavored syrups are made of 100% Pure Cane sugar and are available in Blue Bubble Gum, Blue Raspberry, Cherry, Grape, Orange, Tigers Blood, Lemon-Lime, Dreamsycle and Strawberry.
This tabletop syrup dispenser measures 29.5" Wide, 31" Deep and 24" High and is available in Red or Blue. Custom colors are available, however, an additional fee may apply. Using this unique shaved ice syrup dispenser is perfect for reducing your time making each serving.
Check out the list of features and specifications under the Specs tab above.

Specs
SPECS
Create-A-Cone "Mini"
Dimensions: 29.5" W × 31" D × 24" H
Dispenser Weight: 60 lbs.
Shipping Weight: 260 lbs.
Stainless Steel Dispensing Valves
Flojet Electric Beverage Pumps (NSF Certified)
Electrical: 115 volt, 3 amp max, 1 amp per pump
Colors: Red or Blue. Custom colors may be special ordered - additional fee may apply.
Manufacturers Warranty: 1 Year Defect Warranty, 6 Month on Supplied Components
Failure to Properly Flush and Maintain System May Void Warranty
Includes your choice of (3) 4.5 gallons of Ready to Use Syrup
[9 Bag-In Box (BIB's), 1.5 gallons each]
Flow Rate of Syrup Dispensing Valves can be adjusted and set to desired rate
Bag-In Box
Dimensions: 11.5" W × 7.5" D × 7" H
Weight: 17 lbs.
Available Flavors: Blue Bubble Gum, Blue Raspberry, Cherry, Grape, Orange, Tiger's Blood, Lemon-Lime, Dreamsycle, Strawberry
Shelf Life: 18 month Shelf Life
Sweetener: 100% Pure Cane Sugar

Shipping
SHIPPING
This item ships in 1-2 business days from our warehouse.
Transit times vary on shipping destination. This item is shipped via LTL Freight. Shipping costs are based on weight and dimensions of the item along with distance from our warehouse to the destination. Someone 18 years or older must be available to sign for this item upon delivery.
View our shipping policy for additional details or feel free to give us a call to discuss shipping options.

Customer Reviews for Syrup Dispenser - Create A ConeŽ Syrup Dispenser
You May Also Like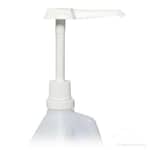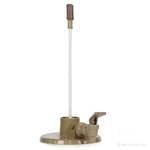 Recently Viewed