Home
//
Super Shaver 1047
Super Shaver 1047 Shaved Ice Machine - Hawaii's Finest
OUT OF STOCK
NOW:
$

1,747.38
(You Save 8%)
Description
The Super Shaver 1047 is a 3/4-horsepower, high-volume ice shaver that can help your business thrive with long lines of customers. The hopper is capable of holding 8 pounds of cubed ice and with the optional 1024 Maximicer making it one of the highest-capacity shaved ice machines on the market. The Super Shaver 1047 may be operated with an optional footswitch and an added drip tray is also recommended.
This Hawaii's Finest machine by Gold Medal is impressively durable and has a built-in blade adjustment knob, a kill switch that stops the machine from operating with the hopper lid open and a thermally protected motor unit. With its 2-year parts warranty, there's no doubt this machine is expected to outlast the competition.
The Hawaii's Finest 1047 Super Shaver is ideal for high production events like carnivals, festivals, and amusement parks. We recommend replacing the blade about every 4,000 servings of fluffy snow! Consider this machine as your next purchase.

Specs
SPECS
Machine Dimensions: 15.5" W × 18" D × 21.5" H
Machine Weight: 55 lbs.
Motor Size: 3⁄4 HP
Electrical: 120V 12.8A 1536W
Ice Hopper Capacity: 8 lbs.
Blade Life: 3,000 - 4,000 servings
Shipping Weight: 60 lbs.
Shipping Dimensions: 26" × 21" × 29"
Manufacturers Warranty: 2 Year Parts; 6 Months Service
Certifications: NSF Certified and UL Approved
Hawaii's Finest 1047 Super Shaver Owner's Manual

Shipping
SHIPPING
This item ships in 1-2 business days from our warehouse.
Transit times vary based on the shipping destination. This item is shipped via LTL Freight. Shipping costs are based on the weight and dimensions of the item along with distance from our warehouse to the destination. Someone 18 years or older must be available to sign for this machine upon delivery.
View our shipping policy for additional details or feel free to give us a call to discuss shipping options.

Customer Reviews for Super Shaver 1047
Recently Viewed
You May Also Like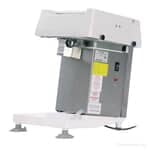 WAS: $1,799.00
NOW: $1,611.00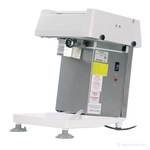 WAS: $1,579.00
NOW: $1,497.99