Choose 10 Quarts of Shaved Ice Syrup
Item #

F110
NOW:
$

69.50
(You Save 22%)


Description
At 1-800-Shaved-Ice, we understand the value of having a wide variety of flavors. Thatís why we sell packages of 10 quarts of ready-to-use shaved ice and snow cone syrup.
Our RTU shaved ice and snow cone syrup doesnít require mixing; just pour and watch your customers enjoy. You can choose from more than 90 flavors to mix and match to your heartís content. Each quart of this high-quality RTU shaved ice syrup is made from the finest ingredients.

Specs
SPECS
10 quarts of Ready-to-Use syrup.
Serving Size: 1 oz.
Ingredients: Water, High Fructose Corn Syrup, Citric Acid, Sodium Benzoate, Natural and Artifical Flavors
Store in a cool, dark place. Refrigeration not necessary.
Guaranteed 1-year shelf life.
Over 90 flavors available.
Soy, wheat and gluten free.
Syrups do not contain any flour or starch.
Syrups are vegan.
No egg products are used to make syrup flavors.
Syrups are not Kosher.

Shipping
SHIPPING

This item ships the same business day if the order is placed before 2:00 PM EST.
Transit times vary based on the shipping option chosen at checkout. Shipping costs are based on the weight and dimensions of the item(s) along with distance from our warehouse to the destination. A signature may be required upon delivery on orders over $1,000 or under the discretion of the carrier.
View our shipping policy for additional details or feel free to give us a call to discuss shipping options.

Customer Reviews for Choose 10 Quarts of Syrup
You May Also Like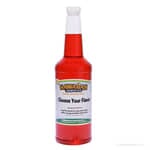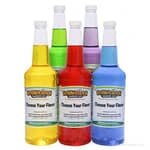 Recently Viewed
Quantity Discounts
# of Units
1
2+
Unit Price
$69.50
$65.00