6 Flavor Station with LED Lights
IN STOCK
NOW:
$

2,481.25
(You Save 5%)
Description
Shaved ice businesses can get hectic in the warmer seasons. Our 6 Flavor Station can help relieve the pressure of eager customers. This Flavor station is a 3 piece unit, a top layer stores the syrup and is surrounded by a Shaved Ice graphic wrap. The middle piece is home to 18 spouts - three for each flavor. There are 6 spouts in three groups around the unit. This part of the Flavor Station also includes the built-in drip tray with a drain. The lower piece not only supports the top, but it also acts as a storage area for a 5-gallon storage jug to hold excess syrup drained from the drip tray.
The top unit supports six 2.5-gallon jugs to store flavors. Each jug has separate valves to control the flow of syrup.
The Flavor Station includes 18 flavor labels - one for each spout. A small, powerful LED light provides sufficient light as your customers flavor their ice after the sun goes down. The LED light is powered by a universal rechargeable battery (model UB1280I) which is not included with the Flavor Station.
Keep your business fun and easy with this unique self-serve station. Includes a 1-Year Manufacturers Warranty and is not NSF approved.

Specs
SPECS
3 Piece Unit
18 Flavor Labels
1 Shaved Ice Graphic (Laminated Wrap)
6 Plastic Jugs (2.5 gallon each)
LED Lights with On/Off Switch
Item Weight: 60 lbs when empty
Shipping Weight: Top:29.95 lbs, Middle:9.6 lbs, Bottom:16.75 lbs
Dimensions: 26" W × 28.5" D × 58" H
Fiberglass, plastic, and aluminum construction
1-year manufacturer's warranty
Battery not included

Shipping
SHIPPING
This item ships in 1-2 business days from our warehouse.
Transit times vary based on the shipping destination. This item is shipped via LTL Freight. Shipping costs are based on the weight and dimensions of the item along with distance from our warehouse to the destination. Someone 18 years or older must be available to sign for this machine upon delivery.
View our shipping policy for additional details or feel free to give us a call to discuss shipping options.

Customer Reviews for 6 Flavor Station with LED Lights
Recently Viewed
You May Also Like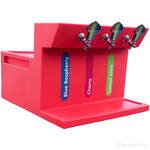 WAS: $2,999.99
NOW: $2,499.99