Home
//
Magnetic Menu Board
Magnetic Menu Board
Item #

8900
NOW:
$

79.95
(You Save 27%)





Description
Our Shaved Ice Magnetic Menu Board can give you an extra edge in your shaved-ice business. You can use the magnetic labels any way you like and hang up the menu almost anywhere.
To quickly change prices or flavors, simply switch out magnets. The attractive design stimulates sales. Includes wall mount, numbers, dollar and cents symbols, size and topping magnets, three hibiscus flower magnets, and your choice of 24 3/4-inch flavor signs color coded to match syrup flavors.

Specs
SPECS
Included in this pack:
1 Shaved Ice Flavor Menu Board – (15 3/4" x 23 1/2")
1 Large Menu Header Design (Choose from our 2 design options)
10 of each number 1-9
20 of each number 0
5 of each - dollar symbol, cents symbol, decimal point, oz.
1 of each of the following size and topping labels: Small, Medium, Large, Extra Large, Flower cup, Toppings (1" tall)
1 Pink Hibiscus Flower Magnet
1 Yellow Hibiscus Flower Magnet
1 Blue Hibiscus Flower Magnet
Your choice of 24 Flavor Magnets - each flavor font is colored to match the syrup flavor (3/4" tall)
Wall mount for vertical or horizontal placement
Can be used with dry erase markers - wipe clean with a drying cloth or duster
Material:
Steel, Epoxy/Polyester Powder Coating
Cleaning:
Wipe with mild cleaner and damp cloth, then wipe dry with clean cloth
We also offer decorative magnets for the Shaved Ice Flavor Menu Board with extra decorative magnets sold separately.

Shipping
SHIPPING

This item ships the same business day if the order is placed before 2:00 PM EST.
Transit times vary based on the shipping option chosen at checkout. Shipping costs are based on the weight and dimensions of the item(s) along with distance from our warehouse to the destination. A signature may be required upon delivery on orders over $1,000 or under the discretion of the carrier.
View our shipping policy for additional details or feel free to give us a call to discuss shipping options.

Customer Reviews for Magnetic Menu Board
You May Also Like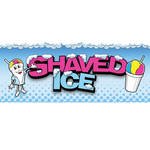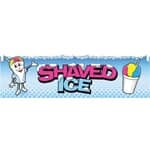 Recently Viewed