Home
//
Replacement Olde New Orleans 1087 Blades
Replacement Olde New Orleans 1087 Blades
OUT OF STOCK
NOW:
$

129.99
(You Save 6%)
Description
Replacement Olde New Orleans 1087 Blades,
if machine was made before 2013.

Specs
SPECS
Stainless Steel
Food Grade
Blade Lifetime: 3,000 - 4,000 servings
Number of Blades: 3

Shipping
SHIPPING

This item ships within 1-3 business days from our warehouse.
Transit times vary based on the shipping destination. Shipping costs are based on the weight and dimensions of the item(s) purchased along with distance from our warehouse to the destination. A signature may be required upon delivery on orders over $1,000 or under the discretion of the carrier.
View our shipping policy for additional details or feel free to give us a call to discuss shipping options.

Customer Reviews for Replacement Olde New Orleans 1087 Blades
Recently Viewed
You May Also Like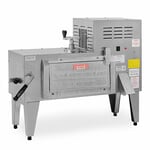 WAS: $2,600.00
NOW: $2,351.00