Shavette Snow Cone Machine - 1006DC
OUT OF STOCK
NOW:
$

903.19
(You Save 10%)
Description
Featuring a deep cycle, marine type battery that can be used anywhere — even in places where there's no electricity — the Shavette Snow Cone Machine 12-Volt DC is a great option for entrepreneurs who need reliable, at-the-ready service.
The 12-Volt Shavette Little Shaver 1006DC can shave up to 300 pounds of high-quality shaved ice per hour, helping to keep your bustling shaved ice stand running efficiently at all times. This machine comes complete with an ice pan and ice scoop and measures 22 inches wide by 16 inches deep by 27 inches high.

Specs
SPECS
22"w x 16"d x 27"h
12 Volt
Blade Life: Replace machine blade when ice production slows
Shipping weight 45 lbs
Shavette 12 Volt DC Snow Cone Machine Owner's Manual

Shipping
SHIPPING

This item ships in 1-2 business days from our warehouse.
Transit times vary based on the shipping destination. Shipping costs are based on the weight and dimensions of the item along with distance from our warehouse to the destination. Someone 18 years or older must be available to sign for this machine upon delivery.
View our shipping policy for additional details or feel free to give us a call to discuss shipping options.

Customer Reviews for Shavette Snow Cone Machine - 1006DC
Recently Viewed
You May Also Like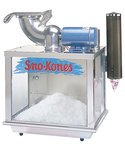 WAS: $1,515.11
NOW: $1,266.68