Snowie Cube Pro Shaved Ice Machine
OUT OF STOCK
NOW:
$

2,990.00
(You Save 15%)
Description
In 2018, Snowie discontinued the Snowie 3000 and introduced this newer model, the Pro Ice Machine Snowie Cube.
What's the difference in the Snowie 3000 and the Snowie Cube Pro? This machine includes the same great features with a new, curvier design.
With the same great features as the previous model, the Snowie Cube Pro shaved ice machine is an incredibly fast ice shaver. It features a self-cooling, 1 horsepower motor which makes this ice shaver perfect for high-volume locations. It can produce mounds of fluffy ice from cubes in seconds and can produce over 1,500 servings per day!
This ice shaver has a unique blade. It mounts a band blade which sits stationary in the machine. This circular piece of metal is, surprisingly, not sharp to the touch. The ice rotates inside the hopper so fast, quickly transforming the ice into powdery snow. We recommend purchasing a spare blade for the Snowie Cube Pro because this ice shaver will be ready for a replacement after roughly 10,000 servings.
The Snowie Cube Pro shaved ice machine weighs 56 pounds and conveniently comes with a workstation drip tray, which can accommodate 4 stacks of various sized cups. A waterproof air foot pedal is also included and plugs directly into the machine allowing the operator to have both hands free to catch the snow into a cup. You may also choose to simply use the toggle on/off switch
It features a built-in dome topper to finish off the ice with the perfect shape. With bright graphics and its appealing design, the Snowie Cube Pro cube ice shaver is definitely one of the tops in the industry.

Specs
SPECS
Machine Dimensions: 15¼" W x 21½" D x 25¾" H
Workstation Drip Tray Dimensions: 25.5" W × 31.5" D × 2.5" H
Machine Weight: 60 lbs.
Motor Size: 1 HP
Electrical: 115V 14A 1680W
Shaving Capacity: 18 servings per minute
Ice Hopper Capacity: 12.5 lbs.
Blade Life: 10,000 servings
Shipping Weight: 66 lbs.
Shipping Dimensions: 21" × 28" × 27"
Manufacturers Warranty: 1 Year
Certifications: NSF Certified and UL Approved
Ice Consistency on our Fluffiness Scale: 9
Snowie Cube Pro Owner's Manual
Snowie Cube Pro Specs Sheet

Shipping
SHIPPING

This item ships the same business day if the order is placed before 2:00 PM EST.
Transit times vary based on the shipping option chosen at checkout. Shipping costs are based on the weight and dimensions of the item(s) along with distance from our warehouse to the destination. Someone 18 years or older must be available to sign for this machine upon delivery.
View our shipping policy for additional details or feel free to give us a call to discuss shipping options.

Customer Reviews for Snowie Cube Pro Shaved Ice Machine
Recently Viewed
You May Also Like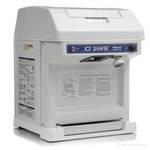 WAS: $1,895.00
NOW: $1,695.00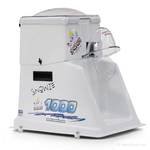 WAS: $1,991.00
NOW: $1,791.00