Swan SI-10BEA Battery Powered Block Shaved Ice Machine
OUT OF STOCK
NOW:
$

2,195.00
(You Save 20%)
Description
The Swan battery powered block shaved ice machine (SI-10BEA) is a DC ice shaver model that uses a 12-volt, deep cycle marine battery to shave up to 4.6 pounds of quality shaved ice per minute wherever you need it. No generator or wall socket is needed for this top battery powered ice shaver.
The Swan shaved ice machine is powered relies on a 12-volt, 17-amp motor and comes with a pre-installed blade plus one spare blade. A pre-installed foot pedal was a brilliant add-on along with a convenient drip pan and safety shield. The teal blue machine is surprisingly quiet and produces snow perfect enough for the pickiest shaved ice customer.
The 12 Volt Swan ice shaver is incredibly resilient with a metal base structure and teal blue shell. This is the best-shaved ice machine for mobile shaved ice units because of the space-saving upright stature and the battery operated motor. Transport this machine from event-to-event without any hassle.
It boasts a 1⁄4 horsepower motor and is NSF approved to comply with health code requirements. The 1-year manufacturers' warranty will give you that added peace of mind when making your purchase.
Specs
SPECS
Machine Dimensions: 12" W × 15" D × 28" H
Machine Weight: 65 lbs.
Motor Size: 1⁄4 HP
Electrical: 12V 17A
Ice Block Size: 6" × 6" × 6" (±)
Shaving Capacity: 4.6 lbs. per minute
Blade Life: 3,000 - 4,000 servings
Battery: 12V Deep Cycle Marine Battery (not included)
Shipping Weight: 74 lbs.
Shipping Dimensions: 22" × 37" × 23"
Manufacturers Warranty: 1 Year
Certifications: NSF Certified
Swan SI-100E Block Ice Shaver Owner's Manual
Shipping
SHIPPING

This item ships in 1-2 business days from our warehouse.
Transit times vary based on the shipping destination. Shipping costs are based on the weight and dimensions of the item along with distance from our warehouse to the destination. Someone 18 years or older must be available to sign for this machine upon delivery.
View our shipping policy for additional details or feel free to give us a call to discuss shipping options.
Customer Reviews for Swan SI-10BEA Battery Powered Block Shaved Ice Machine
Recently Viewed
You May Also Like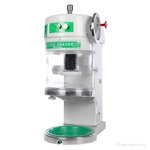 WAS: $2,495.00
NOW: $2,195.00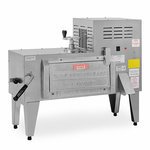 WAS: $2,775.00
NOW: $2,678.17