Vendi Fiberglass Shaved Ice Cart
OUT OF STOCK
NOW:
$

3,900.00
(You Save 7%)
Description
This fiberglass Shaved Ice Vending Cart is the most popular vending cart we sell. It's perfect to start a shaved ice business or add to your existing business. This vending cart can be purchased with or without our signature water system. Adding the water system will give you the best mobile cart setup around.
The Shaved Ice Vending Cart includes plenty of counter space to set up a machine, syrups, and cups. An electrical outlet is conveniently placed in the center of the countertop to power a shaved ice machine. With the water system, the counter also holds a three-compartment utility sink and a handwashing sink which are all supplied water with one faucet.
Below the sinks you'll discover the 115V water pump, 2-gallon water heater, sink drains and electrical hookup. To run power to the cart, simply feed an extension cord from underneath and make the connection. This provides enough power to pull current to each water component and your machine. All of this is easily disguised and secured by two hinged doors with a lockable latch system.
Located in the center of the Shaved Ice Vending Cart is a 10-compartment secured cash drawer under lock and key. To the left of the cash drawer is a standard threaded hose connector to fill the fresh water tank. Below the cash drawer, a hinged door conceals the fresh water tank, waste water tank and drain valve.
One of the most resourceful features of the Shaved Ice Vending Cart is a 70-quart ice cooler which rests on a heavy-duty slide out shelf. This added convenience allows ice to be readily available to the right of the vendor.
The cart rests nicely on 4 swivel casters with locks. With the side handles on each side, it moves smoothly when pushed and pulled to the desired location. The shaved ice vendor will always be shaded with the festive umbrella which may be tilted throughout the day. This gives the ability to remain shade-free from sunup to sundown!
Of course, if you do not choose the vending cart with a water system, there will be plenty of storage beneath the cart in the absence of the water-system components.
Now do you understand why this is our best selling shaved ice vending cart? With all of its features combined with an eye-catching graphic, you'll have everything you need to have a successful shaved ice stand.
We understand the investment when making this purchase. If you ever have questions or wish to speak with someone directly regarding the Shaved Ice Vending Cart, call us at 1-800-742-8334 and we'll have one of our experts help you out.

Specs
SPECS
Cart Dimensions: 34" W × 531⁄2" H × 89"L
Working Counter Dimensions: 32" W × 37" H × 82" L
Serving Counter Dimensions: 9" W × 531⁄2" H × 82" L
Sink Dimensions: 6" D × 11" L × 7" W
Front Panel Dimensions: 29" H × 82" W
Side Panel Dimensions: 29" H × 33" W
Cart Weight: 340 lbs.
Maximum Counter Weight: 200 lbs.
Molded Fiberglass Construction
10 Compartment Cash Drawer with Lock
Transparent Plexiglass Sneeze Guard
20A Duplex GFCI Outlet on Counter
5-Day Extreme 70 Quart Insulated Ice Cooler
Optional Water System Features
Water Heater: 2 Gallon
Water Pump: 115V
Fresh Water Supply Tank: 8.5 Gallon
Waste Water Tank: 15 Gallon
Sinks: 3 Compartment Utility and 1 Handwashing
Single Faucet to Supply all Sinks
Shaved Ice Vending Cart Owner's Manual

Shipping
SHIPPING
This item ships in 4-6 weeks from our warehouse.
Transit times vary based on the shipping destination. This item is shipped via LTL Freight. Shipping costs are based on the weight and dimensions of the item along with distance from our warehouse to the destination. Someone 18 years or older must be available to sign for this machine upon delivery.
View our shipping policy for additional details or feel free to give us a call to discuss shipping options.

Customer Reviews for Vendi Fiberglass Shaved Ice Cart
Recently Viewed
You May Also Like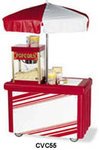 WAS: $2,480.00
NOW: $2,150.00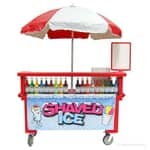 WAS: $4,270.00
NOW: $3,949.00