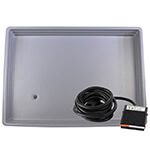 Do I Need Machine Accessories?
Updated: January 27, 2019
That question is up to you. If you ask me, yes. In fact, my two favorites are a drip tray and a foot pedal which I have recommended over to the right of this page. We offer accessories for shaved ice and snow cone machines that can help with day-to-day operation.
The most popular accessory is a drip pan. Face it, you've got a high powered machine shooting snow as fast as it can. You'll need something to catch the over-spray. We have a couple options with drip trays. The most popular is an aluminum drip pan with a drain tube. Another option is our large gray drip tray which is meant for permanent installation on top of your counter. Either one does the trick.
Foot pedals are extremely popular also. By installing a footswitch, you can free up both of your hands and produce shaved ice much faster and serve your customers promptly. We offer a couple of options for foot switches. They are both easy to install, however, they are not compatible with battery operated shaved ice machines.
When your machine isn't providing light, fluffy flakes as it once did, it's probably time for a new blade. We have several ice shaver replacement blades - just let us know which machine you have. You'll find Hatsuyuki replacement blades, New Orleans replacement blades and many more. Keeping a sharp blade will be the key to offering a consistent product.
Whether you choose to add any of these items to your business collection or not, you know what's available. We're always adding new products to keep up with the demands of your business.