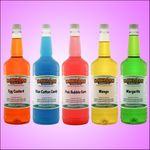 Ready-to-Use Shaved Ice Syrup - Part 2
Updated: April 14, 2019
My previous article gave us a basic understanding of ready-to-use syrups (RTU). Here, we continue to dive in a little more.
Two things your business must have for customers to return are a high-quality machine and premium syrup flavors. Our variety of RTU flavors come in quart and gallon sizes for your convenience. Dispensing syrup for shaved ice is typically done from a quart bottle with bottle pourer (like a bartender would use for liquor). Gallon jugs with added syrup pumps are great for snow cones. Please note that shaved ice syrups are the same as snow cone syrups. There is no difference. We refer to both varieties because some readers plan to open a shaved ice business while other readers intend on opening a snow cone business.
When operating your shaved ice business we suggest keeping the number of flavors to a minimum. By purchasing every flavor we offer, combined with your own special recipes, you could easily have over 100 flavors. We highly discourage this. We suggest starting out with around 20 to 30 popular shaved ice flavors. After you get the hang of the shaved ice business, you can add flavors as you see fit. We have found that the more flavors that you have the harder it will be for your customers to make a decision. This will often cause you to have a longer wait time for other customers.
When selling snow cones or attending large events such as festivals, carnivals and company picnics, we suggest offering only 3 to 5 flavors of shaved ice. These events tend to be extremely busy and you want to encourage your customer to choose easily.
To maintain freshness your snow cone and shaved ice flavors, we recommend storing the syrup at room temperature and away from direct sunlight. Always keep the bottles sealed and shake well before each use.