Home
//
Clearance - Shavatron Snow Cone Machine
Clearance - Shavatron Snow Cone Machine
IN STOCK
NOW:
$

2,027.00
(You Save 33%)
Description
This Shavatron Snow Cone Machine is on sale because it has a bent door but still functions as usual. If you would like to purchase this machine, please feel free to give us a call if you have questions.
Sometimes called "The Cadillac of Snow Cone Machines," the Shavatron High Output Snow Cone Machine uses a .5-horsepower motor with an 800-watt, 6.7-amp, 120-volt capacity to pump out large volumes of high-quality snow cones quickly.
The Shavatron Snow Cone Machine also features three large blades in the ice shaver head that turn at just over 300 RPM, allowing you to plane snow off the ice chunks in the hopper.

Specs
SPECS
1/2 HP Motor
Quiet drive belt system
Huge ice hopper
Safety hopper lid switch
Attractive stainless steel dome with illuminated sign
3 blade shaver head
Shaves roughly 1000 lbs of ice per hour
Blade Life: Replace machine blade when ice production slows
28"w x 20"d x 33 1/2"h
800 watts, 6.7 amps, 120 volts
Shipping weight: 146 lbs
Shavatron Snow Cone Machine Owner's Manual

Shipping
SHIPPING
This item ships in 1-2 business days from our warehouse.
Transit times vary based on the shipping destination. This item is shipped via LTL Freight. Shipping costs are based on the weight and dimensions of the item along with distance from our warehouse to the destination. Someone 18 years or older must be available to sign for this machine upon delivery.
View our shipping policy for additional details or feel free to give us a call to discuss shipping options.

Customer Reviews for Clearance - Shavatron Snow Cone Machine
Recently Viewed
You May Also Like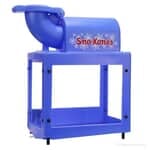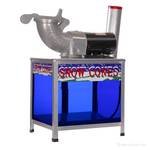 WAS: $1,012.73
NOW: $908.73