6x10 Concession Trailer for Shaved Ice or Snow Cones
OUT OF STOCK
NOW:
$

15,495.00
(You Save 6%)
Description
This shaved ice 6x10 concession trailer for sale proves 1-800-Shaved-Ice offers everything needed to start a shaved ice business. Each low-cost, self-contained concession trailer is made to maximize efficiency and draw customers to your business.
The 6-foot by 10-foot commercial snow cone and shaved ice trailer is built by hand in five eye-catching colors with a serving window, detachable menu board, 13,500-BTU air conditioner, hot water system, hand-washing sink and everything listed in the specs below you need for a snow cone or shaved ice business.
Before ordering your desired trailer, we do recommend reaching out to your local health regulations department to get any required information concerning health requirements, and your local city or county zoning department for business requirements. Our trailers typically meet 99% of all regulations, however, it's your responsibility to check with said departments for clarity and the potential missing requirement requested of your local area.
Unfortunately, due to the State of California's heavily regulated rules and regulations, we typically do not sell trailers to California residents, since the trailers generally do not pass the required codes. We suggest reaching out to a local trailer manufacturer or having one custom built locally if you reside in California. You may also want to reach out to your local health department and zoning board for a list of all regulations.
Call today to see about availability to place your order. Depending on inventory and the time of year, lead time on trailers is generally 2 to 5 weeks. To begin the construction of a trailer you must make a deposit of $500. The deposit can be paid with a credit card, money order etc. Upon completion of the trailer you, the customer will be contacted for final payment. The trailer must be paid in full using a cashier's check before the trailer leaves the warehouse, they can be picked up or be delivered within a couple of days [see Shipping information]. A Manufacturer Statement of Origin (MSO) will be issued to use to register your new trailer in your specific state, you are responsible for all titling and sales tax applicable.

Specs
SPECS
All trailers are now being wired to allow for charging while the trailer is being pulled, via the alternator of the connected vehicle.
Inside height: 6'4"
Outside height with air conditioning unit: 9'2"
Outside width: 8'
Weight of trailer (empty): 2360 lbs.
Single axle
Air conditioner, 13,500 BTU
Tank gauges to check all tank levels (required in some states)
Stabilizer jacks in the rear
Sliding serving windows and screens
Serving window awning door
Detachable tongue
Bottle packs and cup racks
Deep cycle 12-volt battery for interior lights, shaver and water pump
3500 lb.4 inch drop easy lube Dexter axle
Smart battery charger built in with automatic operation
NSF approved aluminum countertops
3 compartment sink
Hand wash sink
2.5 gallon hot water system, 1500 watt fast recovery
40 gallon waste water holding tank - made of heavy duty 1/4" thick polyethylene
20 gallon fresh water tank - made of heavy duty 1/4" thick polyethylene

Tanks can withstand a constant operating temperature of 140 degrees Fahrenheit, to intermittent service up to 160 degrees Fahrenheit
Tanks are translucent and UV stabilized
Drain lines are made of schedule 40 PVC or CPVC pipe

15 cubic foot freezer

Holds around 50 blocks of ice [5 1/2" x 5 1/2" x 12"] or around 400 lbs of cube ice

Battery lock
Built in cash drawer
Fluorescent interior lighting
All D.O.T lighting and safety chains, 2" ball
Easy to wash walls and floors
Deadbolt lock on the doors
Pin stripes/decals to enhance trailer appearance
Heavy-duty trailer tires
Outside water fill
Spray nozzle installed next to ice shaver
Easy drain waste tank
Clearance marker lights
Optional Add-On Accessories
Chasing rope lights (available in red, white, blue, green, yellow and orange) - $375.00
Chrome wheels - $100.00 (per axle)
Spare tire and rack - $120.00 (w/ cover)
Burglar Bars - $190.00
Additional window with awning door - $500.00
NSF 3 compartment sink - $700.00
16 cubic foot, NSF approved freezer - $750.00
Undercoating - $65.00
Add 4" to the inside height - $400.00
3 or 2 sink cover - $200.00
Drip pan for shaved ice machines - $45.00
Shipping
SHIPPING
This item may be delivered by the manufacturer or picked up by the customer in Alabama. If delivery is needed, a fee is applied. Fees are based upon current gas prices and may range from $1.25 - $1.75 per mile to the destination. Depending on availability, trailers are typically ready for pick up or delivery in 4-6 weeks. Arrangements must be made with the manufacturer for pickup and delivery.
View our shipping policy for additional details or feel free to give us a call to discuss shipping options.

Customer Reviews for 6x10 Concession Trailer for Shaved Ice or Snow Cones
Recently Viewed
You May Also Like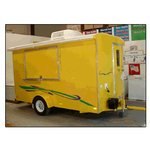 WAS: $17,995.00
NOW: $16,995.00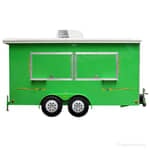 WAS: $20,495.00
NOW: $19,495.00