Hatsuyuki Battery Operated Cube Shaved Ice Machine
IN STOCK
NOW:
$

1,895.00
(You Save 14%)
Description
The battery-powered Hatsuyuki HC-8E ice shaver offers the same advantages as the standard plug-in version. It requires a 12-volt deep cycle marine battery which can be found at many local auto parts stores. By using a battery powered ice shaver, you can reduce excess noise from running a generator and have less equipment to keep on hand.
With the ability to shave 500 servings in an 8 hour period, the Hatsuyuki 12 volt model is popular among mobile vendors with limited access to electrical sockets. It produces fine and fluffy snow with the ability to adjust the texture with the blade adjustment knob which is accessible from the front of the machine. This machine uses bagged ice which is typically found at local convenience stores.
Beneath the machine, the battery-powered shaver Hatsuyuki HC-8E features a small catch tray to catch any excess ice with a drain tube to redirect the flow of water. We always recommend purchasing a larger drip pan to expand your wet shaving area. This machine includes a pre-installed, extremely sharp, stainless steel blade. In addition, a spare blade for the battery-powered HC-8E is included for your first blade replacement (about every 4,000 servings).
This popular machine is NSF and UL approved to comply with many health regulations. If you're going to buy a battery operated ice shaver, this would definitely be money well spent.

Specs
SPECS
Machine Dimensions: 13.3" W × 15.25" D × 17" H
Machine Weight: 52 lbs.
Motor Size: 1⁄3 HP
Electrical: 12V 16A 1905W
Start Up Amps: 48A
Shaving Capacity: 6 lbs. per minute
Ice Hopper Capacity: 2.9 lbs.
Blade Life: 3,000 - 4,000 servings
Battery: 12V Deep Cycle Marine Battery (not included)
Battery will need at least 750 Cold Cranking Amp Ability
Shipping Weight: 57 lbs.
Shipping Dimensions: 19" × 23" × 18"
Manufacturers Warranty: 1 Year
Certifications: NSF Certified and UL Approved
HC-8E Hatsuyuki Cube Ice Shaver Owner's Manual

Shipping
SHIPPING

This item ships in 1-2 business days from our warehouse.
Transit times vary based on the shipping destination. Shipping costs are based on the weight and dimensions of the item along with distance from our warehouse to the destination. Someone 18 years or older must be available to sign for this machine upon delivery.
View our shipping policy for additional details or feel free to give us a call to discuss shipping options.

Customer Reviews for Hatsuyuki Battery Operated Cube Shaver
Recently Viewed
You May Also Like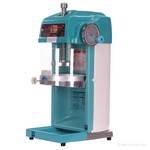 WAS: $2,750.00
NOW: $2,195.00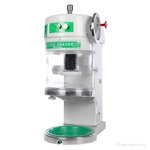 WAS: $2,495.00
NOW: $2,195.00